Australian PM apologises, promises probe after allegation of rape in parliament
Hugo Joseph | February 16, 2021, 17:19
Australian PM apologises, promises probe after allegation of rape in parliament
Australia's Prime Minister Scott Morrison apologized on Tuesday to a woman who alleged that she was raped in parliament two years ago for the way her complaint was handled at that time, ordering a probe into the government's workplace culture.
Brittany Higgins said she had feared losing her job after the 2019 incident, and had little support from her bosses.
Ms Higgins, 26, gave a TV interview on Monday that has prompted shock and outrage over her treatment.
She resigned in January this year and said she plans to reinstate her police complaint.
The prime minister said he was only made aware of the allegations on Monday morning despite the alleged engagement of staff from his office in the investigation. "So, I hope Brittany's call is a wake-up for all of us from that point of view".
"That should not have happened, and I do apologize", Morrison told reporters.
Higgins said that the man, regarded as a "rising star" in the party, suggested he lived in the same direction as hers and that his taxi would drop her home.
The woman told an online news publication and Channel 10 on Monday that she had been raped in the office of the current Defense Minister Linda Reynolds in March 2019 by unnamed colleague who also worked for Morrison's ruling Liberal party.
Addressing how the meeting between Senator Reynolds and Ms Higgins was held at the scene of the alleged rape, Mr Morrison said: "That should not have happened and I do apologise".
'I woke up mid-rape.
'I told him to stop.
She said the man left immediately afterwards. Higgins explained that on the night the incident occurred, herself and a male colleague had been drinking in Reynold's office.
'Jenny and I spoke last night, and. she said to me, "you have to think about this as a father first".
"There was a loop happening in my mind of this trauma that I'd just sort of come to terms with and I thought it was unfathomable that they would put me in such a place again", she said.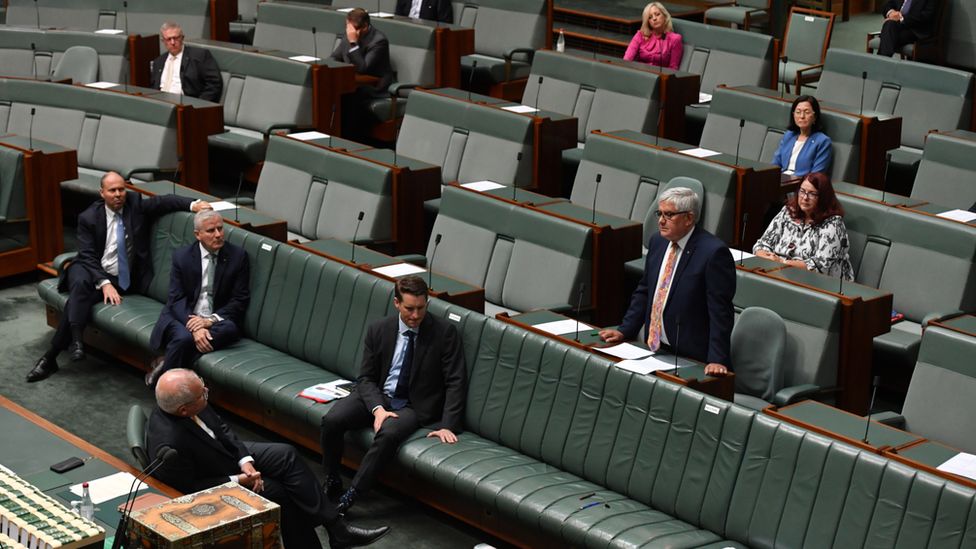 Ms Higgins said her leg was "crushed" during the alleged rape and took a photo of an alleged bruise in the bathroom.
The Liberal party has been dogged by allegations of improper behavior towards women.
What was the PM's response?
He said such an event "should not have happened", saying it would spark a review of the complaints procedure in parliament.
Morrison appointed government lawmaker Celia Hammond to work with political parties to investigate Parliament House culture, improve workplace standards and to protect staff.
Mr Morrison added he wanted to make sure Parliament House was a safe work environment for any woman.
Morrison also discussed the matter with his wife and that helped him.
"So it was the odd thing where it felt like everyone had all this information on my own assault and I didn't have any and I desperately wanted to see it", Higgins said. "What would you want to happen if it were our girls?' - Jenny has a way of clarifying things, always has", he said.
"Daughters and wives do not exist to teach men to respect women and have empathy", he said.
Ms Higgins said made a decision to speak out after being inspired by women's campaigner and Australian of the Year victor Grace Tame. It has previously been accused of covering up sexual misconduct.
"It should not have taken my story, or the story of other victim-survivors to air on national television for the Prime Minister - or any Member of Parliament - to take action on workplace sexual harassment, assault or bullying", she said in the statement.
But critics also point to a perceived lack of action when allegations of intimidation and misogyny were levelled against two government ministers late previous year, saying sexism persists.
At the time, Mr Morrison was also criticised for interrupting a female minister who was responding to a question about what it's like to be a woman in parliament.