Industrial production contracts 1.9 per cent in November
Scott Gibson | January 13, 2021, 9:49
Industrial production contracts 1.9 per cent in November
Retail inflation for December, data for which was also released, offered some relief to policymakers, with price levels easing to a 15-month low of 4.59 per cent on account of a dip in food inflation. Core inflation - which excludes food and fuel costs - was estimated at around 5.70 per cent for the month.
Inflation in food basket plunged sharply during the month under review, ending at 3.41 per cent, showed government data released on Tuesday.
Retail inflation, calculated on the basis of Consumer Price Index (CPI), declined to 4.59 per cent in December previous year as vegetable prices plunged sharply.
Sugar and confectionary prices increased only 0,53 per cent in December, whereas spices got costlier by 10.29 per cent. Inflation in non-alcoholic beverages was recorded at 11.86 per cent and that in prepared meals, snacks, sweets, etc. touched 4.81 per cent.
Cereal and other products saw marginal rise in price during December past year at 0.98 per cent. Inflation in meat and fish, and egg segments stood at 15.21 per cent and 16.08 per cent, respectively.
Rising further from 17.9 per cent in November, CPI inflation in oils and fats crossed 20 per cent in December 2020. "With global and domestic demand expected to strengthen with the rollout of Covid-19 vaccines, the core-CPI inflation may remain relatively sticky, and display a limited correction going forward", Aditi Nayar, principal economist of Icra, said. "Food prices drove the softening in inflation".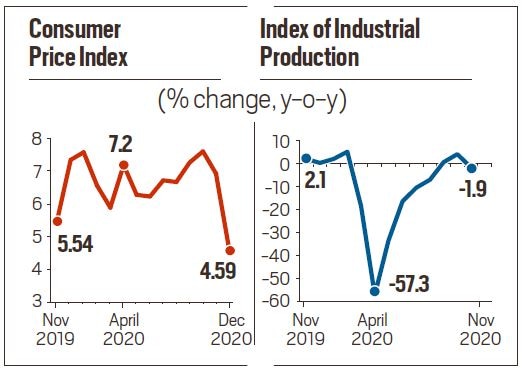 "We continue to expect the stance of the RBI Monetary Policy Committee to be changed to neutral from accommodative only after there is greater certainty on the durability of the awaited economic revival".
Food inflation declined to 3.41 per cent in December in 2020, compared with 9.5 per cent in November.
Overall, consumer inflation settled below 5 per cent for the first time since November 2019, and was within the Reserve Bank of India's (RBI's) target range of 2 to 6 per cent.
The IIP data comes as a dampener to hopes of an economic revival, as factory output in the country had grown 3.6% in October, the highest since a countrywide lockdown was imposed due to the coronavirus lockdown in March a year ago. Major contributors to higher core inflation are health and recreation and amusement, he said.
RBI has slashed its main repo rate by 115 basis points since March 2020 to cushion the shock from the coronavirus crisis, but left rates unchanged last month.
Anagha Deodhar, chief economics, ICICI Securities, said, "This inflation print is sharply lower than our expectation".