Police arrest 84 in crackdown on Italian mob
Sam Hall | December 6, 2018, 1:32
Police arrest 84 in crackdown on Italian mob
Authorities said they conducted raids in Germany, Italy, Belgium and the Netherlands in a crackdown on the 'Ndrangheta, a southern Italy-based organized crime group.
The raids were the culmination of an investigation code named Pollino that was launched in 2016 against the 'Ndrangheta criminal group on allegations of cocaine trafficking, money laundering, bribery and violence, said Eurojust, the European prosecution agency that fights cross-border organized crime, which co-ordinated the operation.
A total of 84 suspects were arrested as police in Italy, Germany, Belgium, the Netherlands and Luxembourg raided the homes of suspected mafia bosses and searched restaurants and other businesses in the early hours of the morning.
Despite intense police attention and frequent arrests, the organisation has continued to extend its reach.
Deputy Prime Minister Luigi di Maio hailed the operation as "one of the biggest blows inflicted on the mafia" by the Italian authorities.
Police in Europe and in South America have arrested at least 84 suspected mobsters in a massive global crackdown targeting a powerful branch of Italy's notorious mafia, officials said.
But Federico Cafiero De Raho, Italian anti-Mafia and anti-terrorism national prosecutor, also sounded a note of caution, saying that the raids only scratched the surface of the powerful 'ndrangheta, whose tentacles and illicit activities spread all over the world.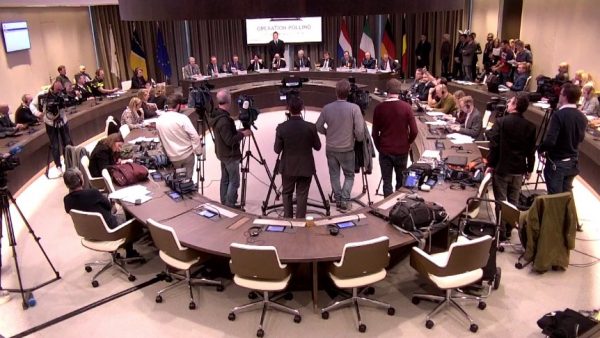 Law enforcement and judicial officials speak at a press conference organized by Eurojust in The Hague Netherlands on Dec. 5 2018
But he warned that it was "just a first step", saying the arrests were "nothing for the 'Ndrangheta, there are thousands of people who should be arrested and billions that should be seized".
In Germany, Wednesday's operation focused on restaurants, offices and apartments linked to the mafia group, focused on the North Rhine-Westphalia region, Der Spiegel reported.
European police agency Europol called it a "decisive hit against one of the most powerful Italian criminal networks in the world".
Dutch outlet NOS said that the 'Ndrangheta is known to operate its drug smuggling through the country's vibrant flower-trading industry.
The raids follow Tuesday's operation against the Sicilian Mafia in Palermo, which resulted in the capture of the syndicate's newly elected leader, 80-year-old jeweller Settimo Mineo, in addition to 45 other suspects.
He said that fighting organized crime across state lines "requires judicial instruments like the ones used in this occasion in Europe, which allowed us to coordinate our regulations, and enabled us to counter 'Ndrangheta".
Jeweller Mineo, 80, was detained along with at least 45 others just before he was due to be appointed official heir to notorious mafia boss Toto Riina who died in prison past year.