Ferrari builds bespoke SP3JC roadster on bones of F12 tdf
Robin Barnett | December 1, 2018, 20:34
Ferrari builds bespoke SP3JC roadster on bones of F12 tdf
The most loyal of loyal Ferrari customers are sometimes provided the opportunity to commission their own coach-built Prancing Horse via a program known as Special Projects. The Ferrari Styling Centre designed this vehicle at the request of a collector, and it took the Maranello craftsmen two years to ideal it.
The sole one-off auto to be commissioned on this limited-series special, the SP3JC is the maximum expression of open-air motoring, harking back to Ferrari's epic V12-engined spiders of the 1950s and '60s.
Although the front of the auto is nearly completely new, it doesn't stray too far from the F12 template. The rear has been changed entirely as the engine lid is transparent, the tail lamps are circular and blacked out. This connects to the iconic double bubble design that has defined many classic sports cars in years past, and channels rearward to meet the wholly-new rump.
The unique paint scheme was inspired by the client's passion for Pop Art. Thus, it wears a delightfully old-school livery accordingly, with Azzuro Met (blue) on the nose, Bianco Italia (white) on the rest of the body, and Giallo Modena (yellow) accents.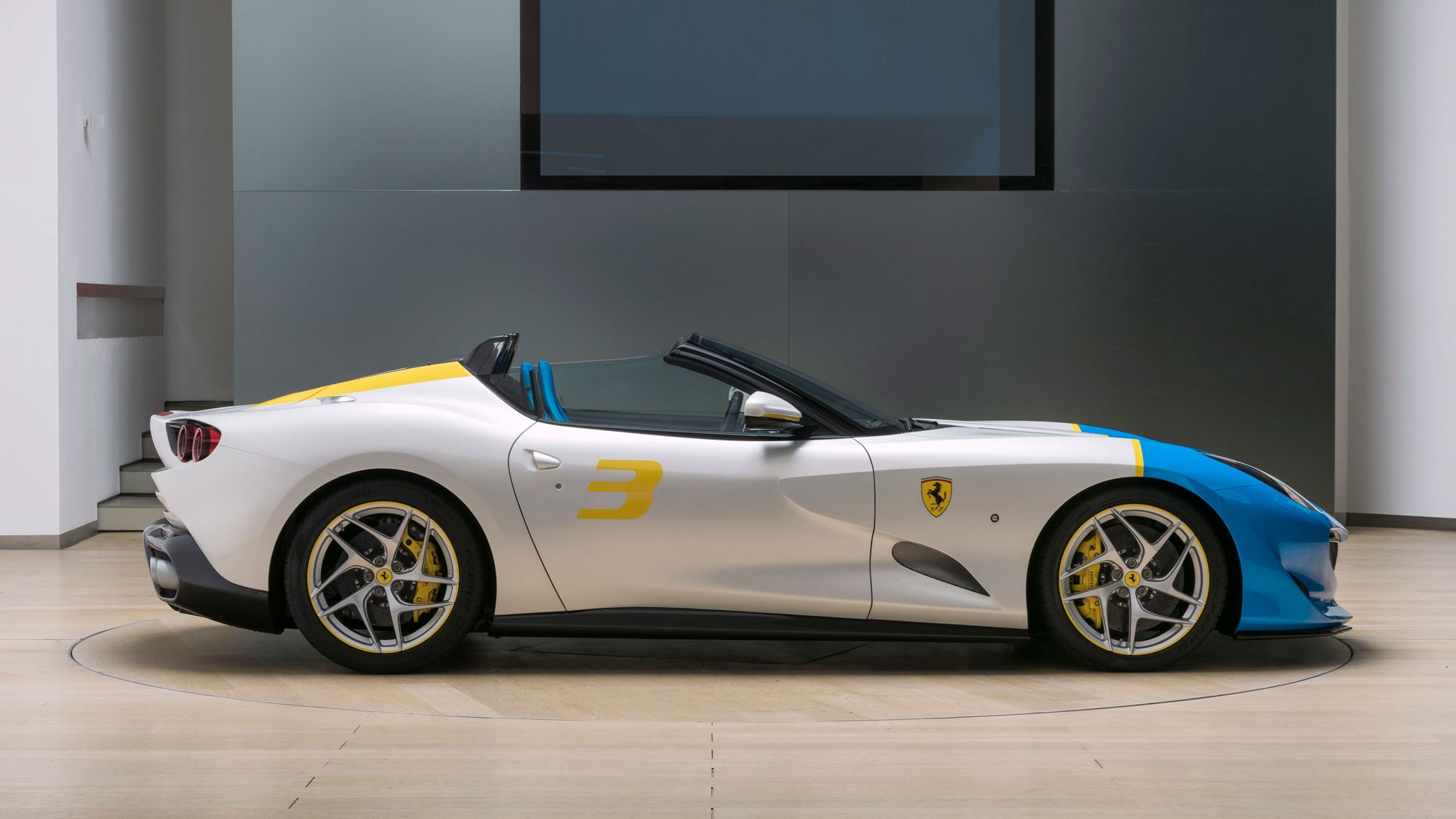 The interior is also upholstered in blue leather with a white insert on the seats to match the outside.
Under the bonnet is the same 6.3 litre naturally-aspirated V12 (long live the 12-potter), albeit tuned to produce 780 PS (10 PS more than the F12tdf) at 8,500 rpm (it revs all the way to 8,900 rpm!).
There's no performance figures or a price for the SP3JC right now, but if the F12tdf's anything to go by, expect around 770bhp, and 0-124mph in something like 7.9 seconds.
It's based on the f12tdF and in profile, you do see the shape but that's where the similarities end.