CNN under fire for mocking Kanye West's support of the president
Hugo Joseph | October 12, 2018, 2:56
CNN under fire for mocking Kanye West's support of the president
"I love Hillary, I love everybody, but the campaign "I'm With Her" just didn't make me feel, as a guy that didn't get to see my dad all the time, like a guy could play catch with his son".
When asked if West could be a future president, Donald Trump said he could well be. "He might not have thought he'd have a insane motherf***r like me (supporting him)".
"I have a lot of African-American support and a lot has developed over the last little while with Kanye coming out and Jim Brown's been there for a long time", Trump said.
Mr. West didn't dismiss a possible presidential run of his own, but said he'd only consider it "after 2024", or after two full terms of a Trump presidency.
He showed the president a video on his phone of a hydrogen-powered plane and said Trump should travel in it.
"You know when you work with a creator like Kanye West, you don't get mainstream".
"We can empower the pharmaceuticals and make more money", the rapper said. A "smart cookie". Which is pretty underwhelming considering you've just branded yourself a insane motherfucker.
"It was from the soul", West responded. It's attractive though! But there's times where, you know, it's something about - I love Hillary.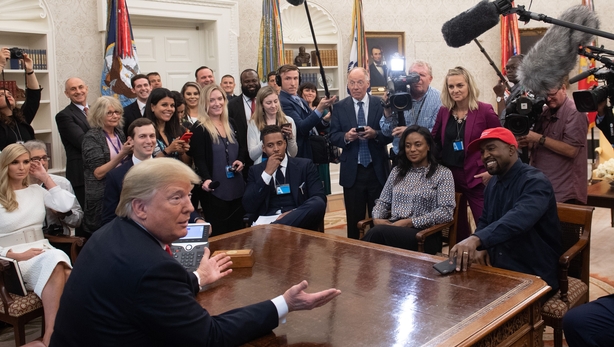 Kanye West met President Trump in surreal Oval Office meeting
"I love this guy right here", the serial Grammy winning artist declared in the Oval Office, before taking the president in his arms.
Trump recently tweeted praise for West, who closed a "Saturday Night Live" show wearing a "Make America Great Again" hat and delivering an unscripted pro-Trump message after the credits rolled.
In a wild, 10-minute soliloquy, West also launched at least one F-bomb in the Oval Office, described his rhetorical style as "fine wine" with "complex notes", and said he had been misdiagnosed with bipolar disorder and was actually sleep deprived which can lead to dementia.
"He's a different kind of guy and that's OK with me". Kanye's visit follows by several months a similar trip to the White House Kim Kardashian West, who met with Trump on May 30 and persuaded him to grant clemency to Alice Johnson, who was serving a life sentence for a nonviolent drug charge in Tennessee.
He went on to say that "we are cheating on our country" by "making everything in China, not America".
He also denied that all black Americans were Democrats.
He said he "loves" the president, before hugging him.
West's "terrific" wife opened his eyes, Trump said.