'Are You Telling The Truth?' European Parliament Questions Mark Zuckerberg
Scott Gibson | May 23, 2018, 12:10
'Are You Telling The Truth?' European Parliament Questions Mark Zuckerberg
For example, Zuckerberg faced a sustained line of questioning about how Facebook builds "shadow profiles" on non-Facebook users and whether users can opt out - but Zuckerberg barely touched upon this in his responses.
MEP Nigel Farage of the United Kingdom had questions about what he said was Facebook's throttling of right-of-center ideas, prompting Zuckerberg to promise the service won't discriminate on the basis of politics in much stronger terms than he did last month in the US Congress.
"I asked you six "yes or no" questions; I got not a single answer", said Philippe Lamberts of the Greens, one of 12 party leaders and lead legislators whose questions to Zuckerberg took up almost half of a hearing - broadcast live after complaints about an original plan for a closed-door meeting.
"Or on the other hand, a genius who created a digital monster that is destroying our democracies and our societies?"
The center-left Socialists and Democrats Group fired back against the meeting on Twitter, saying: "This format does not allow for any real answers". Belgian Philippe Lamberts said as the meeting was almost over. "Zuckerberg did not answer numerous direct questions put to him, and the few answers that we heard were disappointing".
While the European Parliament's powers are limited to scrutinising draft legislation, its members, along with the European Commission, the EU's executive agency, have used the recent scandal as a reminder of why tough new EU privacy rules kicking in at the end of next week are justified.
But some European policymakers did not appear to be swayed by Zuckerberg's entreaties.
"We didn't take a broad enough view of our responsibility and that was a mistake and I'm sorry for it", he said.
The leaders of the Parliament's political factions had prepared for the encounter, hoping to corner the CEO on specific issues including privacy, competition and election manipulation.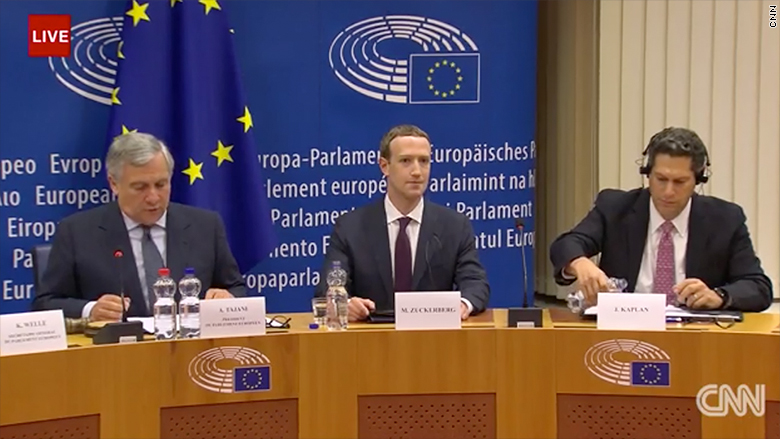 Facebook CEO Mark Zuckerberg meets with European Parliament in Brussels
In his opening statement Tuesday, Zuckerberg reiterated what's become a common refrain, acknowledging both that his company failed to properly safeguard its users' data and that it was caught unprepared to counteract political meddling during past elections. "And, of course, you asked for this format for a reason". "In which way will you adapt your business model to make sure that doesn't happen?"
"Even if they're not signed in we have to understand how they're using the service to prevent bad activity", Zuckerberg said.
Zuckerberg told Parliament that it would take several months for his company to investigate thousands of third-party developers in the search for other apps misusing data in a similar fashion to Cambridge Analytica.
Zuckerberg acknowledged that regulators are likely more interested in the consumer choice aspect, though he pointed out that Facebook allows for small businesses to promote themselves in "sophisticated ways.that previously only large businesses had the means to do". Zuckerberg was allotted time at the end to answer them.
"The European Union can't trust Facebook to solve the problems on its own and to protect users in Europe on its own", added Albrecht, who was one of the driving forces behind the General Data Protection Regulation (GDPR).
"He hasn't responded to the questions and to do that there will be a list of written questions - in fact all the questions that have been put forward to him today", he said. His answers on GDPR lasted about three minutes.
Parliament's leaders worked hard to bring the social media boss to Brussels. This was subsequently confirmed by the parliament's president, Antonio Tajani.
Initially, Zuckerberg would speak only behind closed doors, prompting a wave of protest from MEPs who argued that the event should be public. Tajani tried to set the record straight at the outset of the meeting.